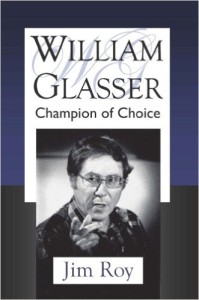 William Glasser passed away in his home, the home that he built after first moving to Los Angeles in 1954, on Friday evening, August 23, 2013. He was 88 years old.
I had wanted to place a copy of his biography in his hands while he was still living, but I will miss being able to do that by just a couple of months. While writing the manuscript I shared portions of it with him and he affirmed the story that was taking shape, so he was aware of at least that much. Something happened last summer, though, that helps me to better accept that he never held a copy of the completed book in his hands. That "something" goes like this –
The annual International Glasser Conference was held at Loyola Marymount University in Southern California during June, 2012. Compared to most international conferences the planning took place rather quickly. This was due, to a great extent, to Glasser's health. It was clear that he was not doing so well and the Institute board members realized that if colleagues and friends from around the world were going to be able to thank him for all he had done, that a conference should be planned as soon as possible, and that it should take place as close to Glasser's home as possible.
When I received the announcement about the conference, which also included a call for breakout proposals, I immediately felt that I should submit a proposal that would serve as an update on Glasser's biography. I had been less involved with the Institute since 2008 and wanted to let people know that the manuscript was almost done. More than that, though, it would be a way for me to say thank you to Glasser for what he meant to me and for what we had accomplished together.
I went ahead and completed a breakout proposal called My Time with Bill, and then waited to hear from the organizers. Several weeks later I heard back from them and was surprised, and a bit miffed, to learn that they wondered whether I would be alright with doing half a breakout, instead of a full time allotment breakout. My ego pretty quickly echoed thoughts like, "well, if they don't think this is important enough for a full breakout then I don't need to do it all". I didn't respond to their email immediately, though, and thought about the situation for a bit. Within a couple of days I realized that this wasn't about me or my ego. The conference was about him, about Bill, and it was about me saying thank you to him. And so I emailed back and said, "sure, I'll take whatever time you give me". I had already begun communicating with Jim Coddington, the person I was going to split the breakout time with when I received word that things had changed and that he and I would each be given a full breakout slot. I was fine with that, too, and proceeded to prepare the presentation.
Not long after that I contacted the organizers to reserve a room at Loyola during the conference. I had wrestled with what to do about lodging, but eventually settled on staying in one of the dorms right there on campus. I indicated that I wanted a private room, thinking my dorm days and living with other guys was behind me. I learned, however, that there were no more private rooms available and that I would have to share a room with someone (the words "surprised" and "being miffed" come to mind). Once again, my ego weighed in–why even go to the conference when it felt that at every turn, things felt difficult? I didn't want to share a room with a stranger, probably listening to his snoring at night (or him listening to mine). But again, after thinking about it, I remembered that this wasn't about me. It was about saying thank you to Glasser. So I let the room reservation people know that it was fine and to put me with whomever.
The conference turned out to be an amazing experience for me! Even the lodging arrangements contributed to the positivity. When I checked in to my room I discovered that one of the two wonderful gentlemen with whom I shared the rather spacious accommodations was Rhon Carleton. Rhon and I were acquaintances before the conference. We knew each other through various Glasser Institute functions. During the conference, though, we were able to become much closer friends. He and I are somewhat unique in that while we are fully immersed and committed to the principles of choice theory, we come at these principles from a faith perspective. Rhon is a former chaplain in the armed services, and now serves as a pastor in Mississippi. I am a professor in a teacher credential program in a liberal arts college sponsored by the Seventh-day Adventist church. My first book, Soul Shapers, alerted SDA teachers to the incredible ways in which Glasser's ideas informed and supported the journey of faith. During the conference, Rhon and I had many discussions on these kinds of topics. As a result, my lodging arrangements actually added to the quality of my experience.
I met or re-connected with many wonderful people as the conference progressed. Those who were aware of the Glasser biography project expressed interest in it and wanted to know how close we were to seeing it in print. One of the people I was surprised to see at the conference was Diane Gossen. Diane was viewed as controversial by some because of her central role in the organizational schism of 1996. She had authored a program called Restitution, which became very successful in schools looking for practical help with effective student discipline. Diane was a long time Glasser trainer and had tapped into control theory principles as she developed Restitution. Yet, when Glasser rejected all school discipline plans, including his own Ten Step Plan, he rejected Restitution, too. Ultimately, Diane left the Institution, along with others, and continued on her own. When I saw her walk into the general eating area as the conference began, it had been over 15 years since she had attended a Glasser function. Maybe her presence, more than anything else, underscored to me what the conference really was about. It was about saying thank you to an important person in a lot of our lives. It was about saying good bye, too. In spite of whatever had happened in the past, Diane was proclaiming loud and clear that Glasser was that important to her! It meant a great deal to me to see her there.
I also met Barry Karlin at the conference. He was very interested in the Glasser biography project and, as it happens, I like talking with people who are interested in projects on which I am working. He had an energy about him and I enjoyed listening to his ideas.
When it came time for my breakout, the room began filling as I set up my computer and got things ready. By the time I started, the room was packed to overflowing. However it wasn't the numbers in the room that caught my eye, as I scanned the room, it hit me what I was about to do. Glasser himself was there, along with Carleen. He was in a wheelchair, as he had been throughout the conference, yet he seemed very present to me. Many who had been part of the Glasser organization for many years, some since almost the very beginning, were seated there, too. Diane Gossen was part of those in attendance as well. Diane and Bill in the same room after all these years. I couldn't believe it! I looked at the faces looking at me, so many of them people I had written about or mentioned in the biography. I thought, with a note of panic, "who am I to be talking about Glasser's journey when these people experienced the journey with him?"
I began the presentation, and had only been going a few minutes when I noticed someone in the corner of my eye enter the room. There were no seats left and he edged along the wall to my left and sat down on the floor. When I realized that the person sitting on the floor was Jeff Tirengel, I was almost overcome emotionally, and even physically. Jeff and I had met 10 years earlier, when we were both completing the Glasser certification week training. We became friends and stayed in touch from then on. Although he possesses a wonderful, dry wit, he has a way of always bringing the conversation to the important. And as we talked about the important things in life we became close. As he sat there on the floor, though, I knew the rest of the story, as the late Paul Harvey would say. I knew that he was in a battle for his life, that he was hanging in there through tough chemotherapy that, while trying to kill the bad cells, was draining him of the good, too. That he would somehow muster up the strength, which he had in such small supply, and come to my talk .  .  . I can barely write about it even now without choking up.
I briefly described each of the chapters, occasionally reading excerpts from the manuscript. I pulled back the curtain and talked about how the whole thing began and how Bill and I worked together. Pictures of Bill on the screen behind me, from childhood to adulthood, added to the story. The hour and fifteen minutes for the breakout went by quickly and I began to wrap things up. I had prepared more material than the breakout time would allow, but had presented what I could. I fairly frequently give breakout talks and trainings, so I know the drill, but I was not prepared for what happened next. Instead of people saying thanks and then heading off to supper, they started asking me when they could hear the information from the rest of the chapters that I was not able to get to. I got my wits about me and stammered that I would be open to that. One person wondered aloud if we could continue early the next morning before breakfast. Other suggestions were tossed back and forth and it was finally decided to continue that evening after supper. Instead of the classroom we were in at that moment, we agreed to meet in the general area, a large open space surrounded by vendor tables.
When the breakout was over I went over to Bill. He tried to speak, but he was too choked up to get the words out. "I don't know what to say," he finally got out. I tried to lighten the moment (I'm not saying it was the right thing to do, but it's what I did) and said, "I couldn't have done it without you, Bill," in an obvious attempt at understatement. "Thank you," he said quietly as he held my hand tightly. I became overcome, too, the two of us in a moment that only the two of us could understand. Jeff joined us, our hug simultaneously conveying congratulations and appreciation. After I returned home Jeff emailed a picture he had taken with his cell phone during the breakout. It shows me talking to the group with Glasser in his wheelchair in the background. The resolution is not very good, yet it will always be one of my most treasured photographs. Jeff was not in the picture, but to me, he is as much in the picture as Bill and I.
I was drained, in a good way, as I headed to supper. I don't remember eating much. Instead I got ready for part two of the presentation. As it turned out, more than twice as many people came to the next session. In spite of the late hour, Bill came to the next session, too. There was so much interest in Glasser's life, the circumstances surrounding his career, and the evolution of his ideas. He was quiet throughout the evening, but I could tell he was taking everything in, the appreciation that people at the session had for him, the admiration, and the affection.
After the conference was over and I was driving back home to Northern California, it began to sink in. I had met or re-connected with so many wonderful people, learned important ideas from other breakout presenters, poured everything I had into my own breakout sessions, and, as I visited with others, even came upon more anecdotes for the ending of the biography, yet none of these things represented the most significant piece of the conference for me. It began to sink in that the most important part of the conference for me, the best reason for my attending the conference, was Glasser hearing and seeing the interest that others had in his story and hearing their thanks and affirmation for his efforts. I had been concerned for months and even years that he might pass away before I could put a physical copy of the book in his hands. Now, after the breakout sessions that he attended, I felt that he had experienced what readers would feel as they read his story. Somehow it felt to me that a ribbon had been placed on the package, so to speak, during those breakout sessions. He knew the book was coming and got a taste of the interest others had in the book's content. I didn't have a publisher yet, but at least I knew that Glasser knew it was coming and knew that people were looking forward to it.
As I drove up Hwy 5, the main north and south roadway artery from the southern part of California through Oregon and Washington all the way to the Canadian border, I had such a deep feeling of contentment as I reflected on my Glasser conference experiences. It struck me just how close I had come to not attending at all. I would have missed so much had I not attended. A bit of pride could have kept me from wanting to do the breakout at all. Discomfort at the thought of having to share a room with someone tempted me to pull the plug on the whole idea of attending the conference.
The good feelings I had, especially the feelings I had about Glasser attending the breakout sessions, were enough to fuel my contentment for quite a while. (Here comes the Paul Harvey "Rest of the Story" part). But there's more. In November, 2012, five months after the Glasser conference in June, I get a call from Carleen Glasser. I was just getting out of my car and about to head into Calistoga High School to observe a student teacher when her call came in. She said something about Barry Karlin and that I should call Jeff Zeig because he was interested in seeing the manuscript. For months I had been working on finding a publisher for the book, even exploring self-publishing options. Harper-Collins was a possibility, I thought, but they turned it down, even though they liked the manuscript a lot. It appeared there might be a possibility with Simon & Schuster, but that didn't work out either. Queries to Beacon Press didn't open any doors and I was really wondering what to do next. Then the phone rings and it is Carleen encouraging me to get in touch with Jeff Zeig. Zeig is the founder and CEO of the Milton Erickson Foundation, a highly respected organization in the field of counseling and psychotherapy. I did get in touch with Zeig and sure enough he was interested in seeing the manuscript. He read it, along with others on their editorial board, and they decided they wanted their publishing company to print it. We have been working on the book together, especially with his editor, Suzi Tucker, ever since.
It turns out that Barry Karlin, who I met at the Glasser conference months before, contacted Jeff Zeig and let him know of the manuscript's existence. Barry and I had good visits during the conference and I was impressed with how committed he was to the Glasser message. He attended my breakouts and was one of the voices that asked for the second breakout session later that evening. Barry and I departed the conference as friends. I sent him the manuscript and sought his comments on what he read. He really felt like the book needed to be published and on his own he contacted Jeff Zeig and the Milton Erickson Foundation. That contact ultimately led to the book being published within the next few months.
Once again, the details of the situation hit me. Had I not gone to the conference I wouldn't have met Barry and he wouldn't have become part of the manuscript and the publisher search. The Milton Erickson Foundation would probably never have come up on my radar screen. I knew that Jeff Zeig was the force behind the success of the Evolution of Psychotherapy conference, but I didn't know that the Milton Erickson Foundation had a publishing house until Carleen and Barry told me about it. Barry taking the initiative made all the difference in the world.
So now you know how the biography came to be published. It's a bit of a convoluted tale, but most good tales are. The moral of the story? Don't let pride keep you from experiencing life. As far as this story is concerned, a little bit of pride would have scuttled everything.
=================================================
This sharing was posted in two parts on The Better Plan blogsite, posted on the 3rd and 5th of September 2013. The Better Plan is about understanding the power of choice, the freedom and responsibility that go with it, and the personal happiness that is the result. Jim Roy is a Professor of Education specializing in secondary education and the authorized biographer of Dr. Glasser.