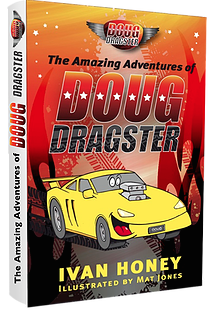 The Amazing Adventures of Doug Dragster (Paperback) – SGD$17.95

Doug Dragster is a young car with an extreme need for speed. But when an accident almost lands his best friend Sid on the scrap heap, Doug has some tough choices to make. When Uncle Diesel Dragster arrives with a special family heirloom, there's magic in the air and adventure on the horizon. What are the secrets of the Magic book? What are the magic questions? Will the magic map lead Doug and his friends to the secret of true happiness?
Jump in the driver's seat with Doug, Sid and Daisy for a wild ride through the sharp turns of life! An adventure in three magical parts! 'Doug Dragster is truly remarkable! He will captivate, entertain and teach valuable information that can transform lives. Enjoyable reading for all ages.

The Doug Dragster series is packed from boot to bonnet with fun and adventure for primary-school-aged children. At the same time, these three stories offer many important signposts to wellbeing and fulfilment. They introduce the positive psychology of Choice Theory and the problem-solving approach of Reality Therapy. This approach is designed to empower young people to make choices that really work – choices that increase happiness and cooperation and encourage healthy relationships.
Choice Theory can equip children and adults alike with the keys to taking control of their own lives and becoming confident, strong, resilient and able to connect in positive ways. The heart of Choice Theory and Reality Therapy is the understanding that nearly all behaviour is chosen, and that we are therefore responsible for all our choices. It is about learning more effective ways to manage our feelings, fulfill our needs and move towards our goals – crucial skills for creating a good life. This simple, fun and highly effective method is now used in many schools around the world.
---
  Back to Top